FROM THE CHAIR
A Newsletter for the patients
of Dr. Jonathan M. Davis
Professional Teeth Whitening Issue #1
Print out coupons to save on your next whitening treatment
Nothing does more for your image than showing the world a bright, dazzling smile. A sparkling white smile boosts your confidence, takes years off your face and projects an aura of good health and hygiene. People have been trying for brighter smiles for thousands of years. There is evidence that the ancient Romans tried many unusual and unconventional means to whiten their teeth. Today there are a number of techniques to whiten your teeth and I will describe them in this month's newsletter.

Choosing the right whitening technique for you can be confusing. Television commercials and magazine ads all claim to offer the latest and greatest in whitening and bleaching, so how do you know which one is the best? Which one fits your particular needs? Are they all equally safe and effective? Rule number 1--- A whiter and brighter smile begins with excellent homecare. Regular brushing and flossing remove many of the stains that we pick up from our food and drink.
When choosing the right option for whitening your teeth, there are many important things to consider. Remember that the decision to whiten your teeth is an important one and that whitening solutions are powerful and must be used with care. Improper use can contribute to excessive tooth sensitivity and damage to the gums and other parts of the mouth. Consider your own dental history as well. Those with crowns and fillings may have unwanted results from at-home whitening procedures gone wrong.
Whitening Toothpastes
There are a number of toothpastes that describe themselves as "whitening". I usually recommend any of the toothpastes that have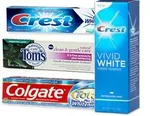 received the American Association Seal of Approval , including brands from Crest, Colgate and Tom's of Maine. You will see some minor enhancement in your smile brightness, but whitening toothpastes are most effective for maintenance after a professional whitening treatment. One caveat, whitening toothpastes may contain higher concentrations of abrasives which may cause excessive tooth abrasion and gum recession when used exclusively.
Do-It Yourself Remedies
The most well known at-home whitening treatment is the Crest white strip kit. The kit usually includes a 14 day supply of individual flexible strips that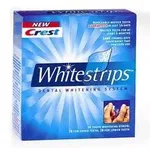 you apply yourself daily. The active ingredient in the crest white strips is hydrogen peroxide. A few of my patients have reported that they are satisfied with the results from the Crest white strips but the whitening effects generally are limited. One of the major side effects is tooth sensitivity from the strips. This will usually resolve over time but we have needed to treat a number of patients for post whitening sensitivity from the white strips.
Be careful of some of the whitening concoctions found on the internet. When searching, I found one that recommended mixing baking soda and lemon juice. This supposedly "all-natural whitening treatment" would be very harmful. First, the lemon juice is highly acidic and rapidly etches the surface of the enamel making it more brittle. The baking soda is abrasive and wears the enamel rapidly. As the saying goes---DO NOT TRY THIS AT HOME.

Professional Tooth Whitening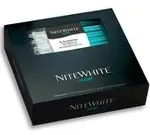 Protecting the health of your smile is our first priority. Professional dental whitening procedures offer you the assurance that your teeth will be whitened to an optimal shade and they also give you peace of mind knowing that the health of your entire mouth will be protected with proven safety precautions.

We will evaluate the overall health of your gums, note existing dental work and then carefully tailor a customized whitening plan for your specific needs. We make custom fitted whitening trays that maximize the effectiveness of the whitening solutions and lips and tongue never come in contact with any whitening solution. Tooth sensitivity is controlled with the proper selection of whitening gel strength and the use of desensitizers when needed.
Professional tooth whitening safest option is not just the safest option, it's also the fastest! We are able to provide optimal, beautiful results in a short period of time by using advanced and powerful whitening and stain-fighting formulas. Your whitening progress is carefully monitored to ensure that the color is accurate and you can relax, confident that you will achieve your whitest, healthiest smile.

With so many options for tooth whitening available on the market, it might seem as if they are all equally safe and effective. Results show, however, that nothing provides safe, long-lasting results like whitening procedures provided by trained professionals at your dental office. Trust your precious smile to us and you can flash that sparkling grin with confidence.
Print out coupons to save on your next whitening treatment
Click "Join our E-mail List" found on
the upper right corner of our pages.
This newsletter/website is not intended to replace the services of a doctor. It does not constitute a doctor-patient relationship. Information in this newsletter/website is for informational purposes only & is not a substitute for professional advice. Please do not use the information contained herein for diagnosing or treating any condition.