Jonathan M. Davis, DMD
Master, Academy of General Dentistry
Dr. Davis has been a lifetime resident of Needham and has been practicing family and general dentistry for more than 30 years. After finishing Needham High School in 1974, he attended the University of Rochester, NY. and completed his dental education at the University of Pennsylvania School of Dental Medicine in 1982. The following year, Dr. Davis received a certificate of advanced training, after completing his residency in General Practice, from The Graduate Hospital in Philadelphia.
A life-long learner, Dr. Davis is a member of the American Dental Association (ADA), the Academy of General Dentistry (AGD), the Massachusetts Dental Society (MDS), and many other professional study clubs and organizations. In 1990, Dr. Davis earned his Fellowship in the Academy of General Dentistry and was recognized as a Master in the AGD June, 2013. He is a Past President and current member of the Needham Dental Study Club and the Charles River Dental Study Club. He is an active volunteer at the annual Yankee Dental Congress, the largest continuing education meeting in New England.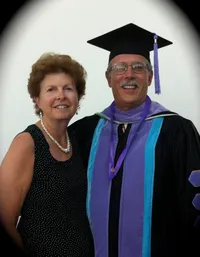 Dr. Davis and his wife Greta at the AGD Masters Ceremony, June 2013
Dr. Davis returned to Needham and opened his practice in 1983, treating patients from ages 2 to 102! With his wife, Greta, and three children, Benjamin, Jaclyn, and Brian, the Davises have been active members of the Needham Community. Dr. Davis served as a Town Meeting Member for ten years, and as President of the Needham Education Foundation 1995-97. He has coached youth baseball, soccer and basketball, is an active jogger and has attended the Boston baseball fantasy camp every year since 2004.
Dr. Davis believes every patient should be treated with respect and compassion. He looks forward to meeting you.